Product Discontinued
This product was discontinued November 2018. It is not compatible with newer versions of Linux. Support is no longer available.
Introduction
TinyTERM for Linux provides a high-quality terminal emulation solution for IT professionals requiring UNIX, Linux and legacy system access from the Linux desktop.
Superior Terminal Emulation
TinyTERM for Linux provides secure TCP/IP access to UNIX and Linux hosts with exact terminal emulation. Users can rely on TinyTERM for 21 terminals, including the Linux console, Wyse 50/60, DEC VT100/VT220/VT320 and SCOANSI. TinyTERM for Linux also provides local shell connectivity, giving you instant access to a command prompt.
Terminals Emulated
| | |
| --- | --- |
| IBM: | 3151, 3101 |
| Digital: | VT100, VT220, VT320, VT420 |
| ANSI: | ANSI 3.64, SCOANSI, AT386, Linux Console |
| Wyse/TVI: | Wyse 50, Wyse 60, Televideo TVI912, 925, 950 |
| Other: | ADM1 |
Dynamic Resizing
TinyTERM for Linux includes xterm-style dynamic terminal resizing. Need more rows and columns displayed? Grab a corner of the window and resize it. TinyTERM for Linux will automatically wrap text to fill the available window space.
Customizable
Multiple code pages allow for display of a wide range of characters and alphabets. Color mapping allows you to easily change the foreground, background and cursor colors for best readability in any circumstances. And with the ability to import configuration files from TinyTERM, connection settings can be shared across platforms.
Security
TinyTERM for Linux includes SSH for very secure connectivity. Based on industry-standard strong encryption, SSH allow users to access remote hosts securely over any available TCP/IP connection. Both host key and username/password authentication are included, as well as RSA/DSA key generation and management.
Features
Selectable color settings for foreground, background and bold text
Very simple and easy-to-use user interface supports multiple connection profiles
21 terminal emulations including Linux console/xterm, VT100/220/320, Wyse 50/60, ANSI, SCOANSI and IBM3151
SSH and Telnet protocol support
Comprehensive RSA/DSA key generation and management
Option for extending lines/cols when resizing or fit scaleable fonts to window
Auto line-wrapping when columns resized for keeping information onscreen
Code page support for over 25 locales, including CP 437, CP 1251, CP 1252, ISO 8859-1 and ISO 8859-2
Configurable hostname, user, port
All customizations can be saved as individual configurations for quick connecting to different hosts
Supports any remotely accessible applications with line draw and character sets
Import connection files from TinyTERM and TinyTERM Plus
Fonts rendered internally for crystal-clear type in all situations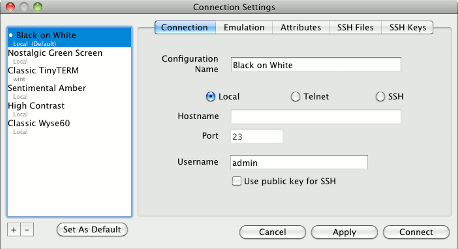 Additional Resources
Feedback
Questions? Would you like to request a feature or comment on TinyTERM for Linux? We'd love to hear from you!
Click here
to let us know what you think.
Support
Need assistance from our technical support department? You can call our support line at (801) 268-3088 option 5, email
support@centurysoftware.com
, or visit our
support page
.
Related Products